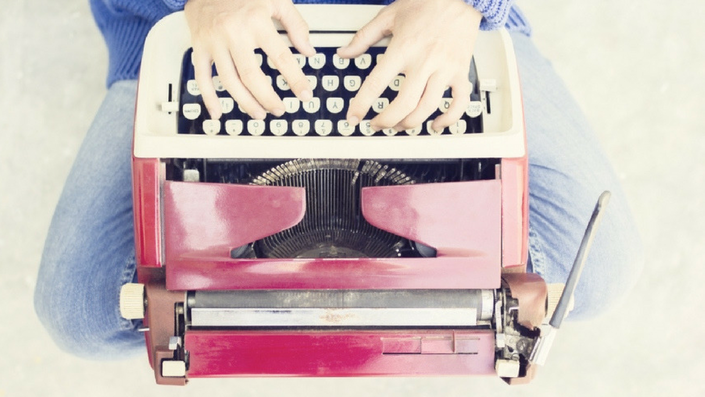 1 LIVE - Authentic storytelling for purpose-driven businesses and causes
How to use storytelling for your purpose-driven business to attract a following, win clients and change the world.
Watch Promo
This live course opens February 19, 2018. Enrol now to secure your place.

"I was a bit worried when I began as I didn't consider myself much of a writer but this course took me from doubt to feeling like I could produce something worthwhile, restoring long silenced confidence in my ability to share my story. I would recommend this course to anyone who wants to be able to learn how to craft story and share it in the service of others." Derrin Cramer, life coach

So you want to use your business for good. To do your bit to change the world. And to do this, you need to connect with clients, find your tribe, spread your message and win raving fans. But you feel all icky about self-promotion. Sales feels sleazy. And does anyone really care? So how do you do this? Storytelling. Use stories to win business, convert clients and bring in the money your purpose-driven work deserves.
Inspired Writing Mentor holds your hand and help you to tell your story – whether you're writing a book for your clients, revamping your business about page, writing a presentation to wow crowds, or penning blog posts to connect authentically with your audience.
The courses provide clear, step-by-step instructions which will guide you on what to write, how to structure it and what writing techniques you can use to take your writing from ho-hum to solid gold.
You'll receive meditations and free writing exercises to help you overcome fears and release your authentic voice, as well as practical checklists, templates and formulas that the guess work and fear out of writing so you can tell your story. You'll soon find writing a breeze, you'll easily captivate others and you'll develop your own personal style that is so god-damned good you'll be busting to share it with the world.
I'm driven by the belief that everyone has a story to share – and that the world can only benefit from its telling.
This course is for you if:
You want to write in a way that will connect you with the right clients, win yourself new followers, help others, and authentically express yourself and your business.

You operate a small business, social enterprise or not-for-profit, or work as a freelancer, consultant or coach who specialises in helping others.

You want to write: stand-out blog posts, an about page that connects you with the right audience and wins you fans; a presentation to captivate your audience, or a non-fiction book to help your clients or tell your story.
This course is not for you if:
You're not willing to show the authentic you (you prefer an impersonal writing style).

You're writing for a large company that is unwilling to show individual personalities.

You are not interested in helping others through your business.
What you'll receive:
Meditations to help you overcome writers block, uncover your story and find your authentic voice.

A truckload of tools, tricks and techniques to tell your story – yours to use again and again for all your future writing endeavours.

Professionally edited manuscript ready to share with your readers (on up to three pieces of writing totally a maximum of 1000 words).

Instructions on how to use the same piece of writing in multiple different ways. You'll finish with about 10 pieces of content to help share your story.

Access to a private FB group to ask questions, share wins, vent frustrations and offer support.

2 x Facebook Lives to ask questions, seek feedback, share your experience.


12 months' access to the course so you can use the same techniques over and over for every piece of writing you create until it becomes second nature.
Value
You could:
Pay a professional journalist or copywriter to write your content (usually from at least 60c a word). But it's expensive, and you'd need to pay for every single piece of writing you produce.

Pay an editor for at least $100 an hour to refine your work.


Write your own work in a way that fails to attract the right clients for you, or produce great copy with careless errors that turns off potential clients, losing you untold dollars in lost income.

Write a single piece of content, use it once, and be done with it.

Instead
You could pay a one-off price of and receive:
The tools and techniques and tips to continually produce writing that connects, captivates and inspires the right clients and followers – now and forever.

Up to three professionally edited manuscripts (up to 1000 words) along with the reasons for changes and suggestions for improvement. Value $200.

A toolkit of bonus content including an outline of my fave writing resources, an editing checklist, and a how to write a rocking about page guide.

Ideas on how to repurpose your content so you can use a single piece of writing in multiple ways.

Personal and ongoing feedback on your work.

Your Instructor
I started my career as a storyteller more than 20 years ago, as an 18 year-old cadet journalist, awash with enthusiasm and intent on fighting corruption, exposing evil and changing the world. But it wasn't long before I found myself dreading my job. I loved the writing. But I hated annoying people. I remember being 'gifted' the chance to cover the court round. Fired up with my new importance I marched into the local court. But it wasn't long and found myself shrinking further into my seat. This wasn't reporting in the public interest, it was gossip dissemination. Did the world really benefit from news articles about drink driving charges and minor theft?
Eventually I resented news journalism so much I quit and went freelance. I went on do a whole heap of freelance writing, wrote five books, and ran PR freelancing consultancy along the way. Yet I remember sitting in a swanky hotel room in Mauritius on a travel writing assignment, an infinity pool stretched before me and a cold beer by my side, and berating myself for thinking this still wasn't it. I might be having brag-about experiences and entertaining readers, but I wasn't doing any good for the world.
Imagine, I dreamed, if instead of spreading doom, celebrity fluff and sensationalism, I could use good writing to uplift, to engage and inspire. Buoyed by this notion, I went on to launch Inspired Magazine, which shares profiles on eco-warriors, game changers, love spreaders and peace makers
Through Inspired Magazine, I came to truly appreciate the power of story. And I came to realise everyone has a story hidden somewhere inside.
This got me to thinking. Imagine if we all had the ability to tell our own stories; to share the life experiences that led us to develop the rich nuggets of inner wisdom that make us who we are. And imagine if we could do this in a way that people wanted to listen. For stories have power. They move us, they inspire us, they make us care. Imagine how much we could teach, how much we could learn, how this shared wisdom could help humanity surge forward with positivity and innovation.
And, imagine if we could use storytelling in our businesses? To take the ick out of sales to authentically connect with your tribe, to cultivate a following of raving fans, and how your business could subsequently soar.
So I set myself a task – to teach others how to use the rich storytelling techniques I employ at Inspired Magazine to tell their own stories. Enter Inspired Writing Mentor.

Course Curriculum
Precourse 1 Welcome to storytelling for business
Available in days
days after you enrol
Precourse 2 What's stoppping you?
Available in days
days after you enrol
Week 1 So what's your story anyway (and why would anyone care?)
Available in days
days after you enrol
Frequently Asked Questions
When does the course start and finish?
The course launches on Feb 5 and you'll receive a new module each week for six weeks (plus some pre-course reading and activities).
How long do I have access to the course?
You'll have one year's access to the course? After enrolling, you have unlimited access for a full year - across any and all devices you own.
What if I am unhappy with the course?
We would never want you to be unhappy! If you are unsatisfied with your purchase, contact us in the first 15 days, with proof of the work you've done so far (you need to do the work to get the benefits!) and we will give you a full refund.
How much time should I allow to complete the course?
It depends on how many stories you want to tell. Most people take about two hours a week to read the content and complete the activities, with some weeks taking more work than others.
Can I get support as I go?
Yes of course. We're here to help. Once you enroll, you'll be invited to join our Inspired Writers Tribe private Facebook group where you can ask questions, share challenges and support your fellow students.
How does the free editing component of the course work?
In week five, you'll email your completed course content to your writing mentor Samille Mitchell, who will professionally edit your work and provide suggestions for improvement.